Grease
is one of my all-time favorite musicals. I grew up craving to be a Pink Lady - the pink jackets are fabulous - and lusting to date a T-Bird, which is probably inappropriate for a tender nine year old. I wasn't the only one who felt so strongly about
Grease
. My cousins and I sang the entire soundtrack so much that our parents began to resent the very musical they loved as teenagers - but I digress.
Thanks to
Tailor4less.com
, I finally felt like a Pink Lady with my made-for-my-measurements button-up shirt. Think of Tailor4less as a worldwide tailor. They customize shirts, blazers, coats and more for anyone, any size (!), any where in the world. I adore my shirt for many reasons: 1) button-ups are a wardrobe must-have, 2) it fits every curve of my body, and 3) it's pink! Now that I'm closer than ever to being a Pink Lady, all I need is my boyfriend to transform into a T-Bird in a black leather jacket. I guess I'll just have to keep dreaming.
Tailor4less is offering my readers 10% off with the code
tailor4fashionlm
(enter before checkout). The code expires 12/31/2010 so you have plenty of time to take your measurements and customize a garment!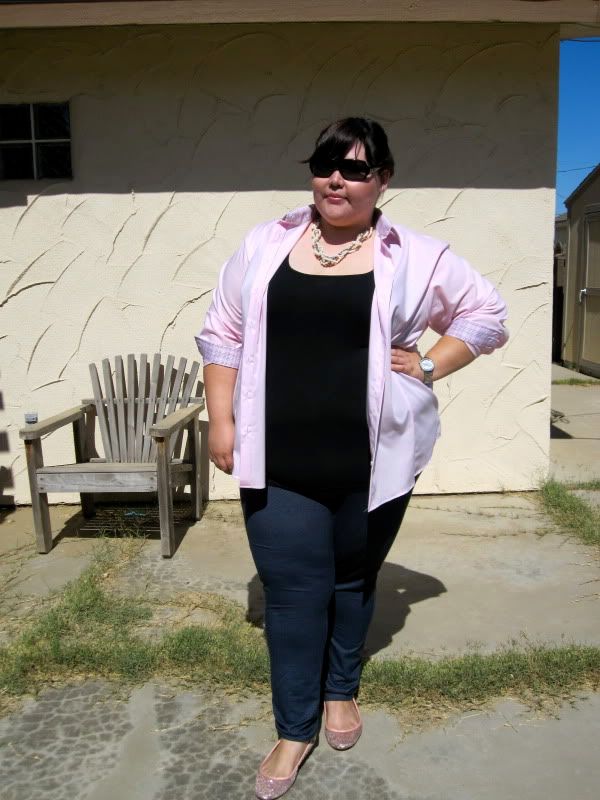 Shirt c/o Tailor4Less // Tank and jeggings from Target // Flats by Alice + Oliva for Payless //
Bag and Sunglasses by Louis Vuitton